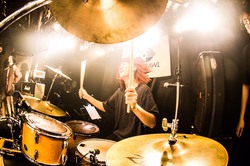 人間の不完全さゆえに生きてる間で起こるやりようのない怒りや悲しみ、葛藤、どうしようもない、どうしたらいいかわからないし誰にも聞けない、相談できない、これらを表現してなおかつ解消できる術が音楽であると思っている。
欠点を愛し受け入れる器量が音楽にはある。
私はそんな受け皿のような曲を届けていきたい。

Uncontrollable anger, sadness, conflict, helplessness, I don't know what to do, I can't ask anyone, I can't do it, I can express and resolve these things that occur during my life because of human imperfections. I think the art is music.
Music has the ability to love and accept its shortcomings.
I want to deliver a song like that saucer.